Our Story: A Tradition of Motor Coach Service

Did you know that Onondaga Coach has been strongly rooted in the bus transportation history of Central New York since the 1920's? In 1927, the Cayuga Omnibus Corporation began operations in Auburn, NY. There are accounts that their fleet reached more than twenty buses and with a little research, their company motto was "Intelligent Transportation." The Cayuga Omnibus offered "line run service" between Auburn, Skaneateles, Marcellus, and Syracuse as well as other municipalities. Then in 1953, Onondaga Coach Corporation was formed soon after the Cayuga Omnibus Corporation ceased operation.

Onondaga Coach Corporation took over the line runs that Cayuga Omnibus had and expanded in the 1960's through a mutual agreement with Greyhound. Onondaga Coach then took over the Geneva-Auburn-Syracuse portion of the Rochester-Syracuse Greyhound line run. As the years went on, motor coach manufacturing made many advancements in safety and comfort and with this Onondaga Coach was finding additional "charter" business with schools and groups from all over our area.

Fast-forwarding to the early 1990's, this is when Onondaga Coach ceased line run operations completely and gave their line run rights to Centro, who to this day oversees those scheduled services.

Onondaga Coach switched its focus completely to Charter and Tour services. Our Charter Department has worked with countless groups and organizations over the years and provides our area with unmatched service. Over the years we have aggressively expanded our Tour Department to offer the greater Central and Upstate New York Region fun and exciting one-day and multi-day bus tours, including one-day, multi-day, and cruises.

While other motor coach and tour companies have come and gone, Onondaga Coach is honored to say that we are still a local family owned business and is recognized as one of the longest continuously running charter and tour bus companies in our area! Onondaga Coach celebrated 60 years of service in 2013 and we standby our motto "A Quality Charter and Tour Company You Can Depend On!".

Our Mission

Our mission is to offer the true sense of "Quality Service" to the one we focus on the most, our customer. In the most simple of expression, we strive to offer the best service we can, remain focused on what you would like us to do, committed to your safety, concerned that you truly have a wonderful time and travel experience with us, and never forget that we need your participation in order that we may acheive the goals which we are mutually setting.

Our Vision

Our vision is to remain in touch with one another, to share each others contributions in a positive way, to allow our company to grow and prosper, and to offer the absolute best of service while remaining humble to those we serve.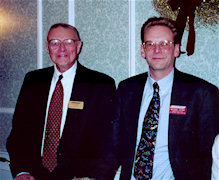 The Oster Family, Founder and Owner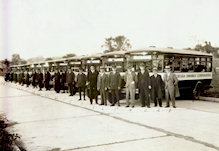 The Early Cayuga Omnibus Corporation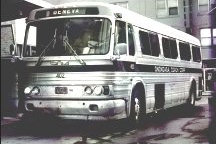 One of 1950's Model Coaches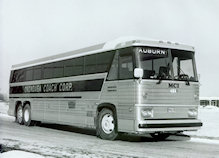 One of 1970's Model Coaches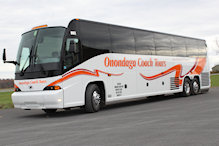 Today's Luxurious Motorcoach